Happy Khmer New Year with Scratch Scan Win!
Stand a chance to win cash 5,000,000 Riels every day from 4th- 17th April on top of another chance to win 3 times with every top-up.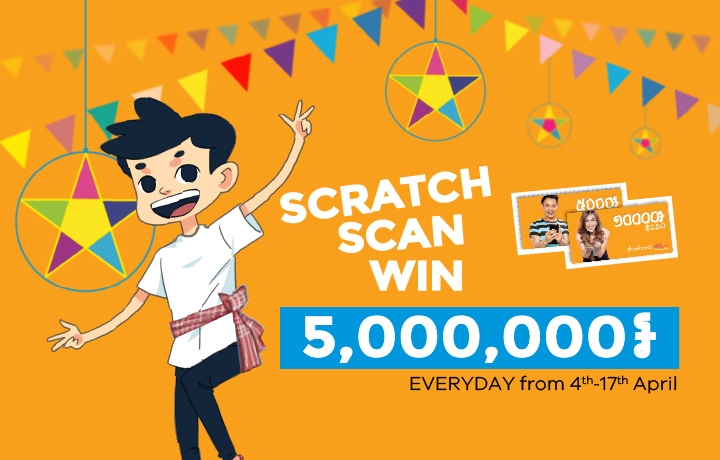 Every time you top-up 5,000 riels or 10,000 riels, you will also get a chance to:
Win an instant prize of up to $100 or 500mb free internet
a chance to take home 1 of 2 Zoomer X 2020 that we're giving away every week
a chance to drive home the car of your dreams – a Mazda 2 2020
Ready to win big?
Get your KHR 5,000 and KHR 10,000 top-up cards now.
Download Cellcard App and start scratch, scan and win!
This promotion is for all prepaid customers who top-up KHR 5,000 ($1.25) or KHR 10,000 ($2.50), excluding Tourist SIM and Data SIM customers​
Instant prizes will be awarded randomly after every successful top-up and credited into your bonus balance with its validity.
Every top-up via top-up cards denomination KHR 5,000R ($1.25) or KHR 10,000R ($2.50) is equivalent to 1 raffle entry to win the Weekly and Grand Prize. ​
Grand Prize lucky draw will include all entries during the promotion period, provided account is active during the draw date.
How do I know if I've won a prize?
Once you have successfully topped-up, you will receive an SMS notification for the daily prize. All winners of Weekly and Grand prizes will be announced during the live draw on Cellcard Facebook page every Wednesday at @11am. Winners will receive a call from 012 812 812 to inform them of their prizes.
Who can join this promo?
All Cellcard Prepaid customers who top-up 5000R($1.25) or 10000R($2.50) during the promotion period; 29-Jan-2020 to 28-July-2020.
If I won a daily prize, am I still eligible to join the Weekly and Grand Prize draws?
Yes, you are still eligible to join.