Introducing our New Regional Roaming Internet Pack!
We've got you covered no matter where your next trip takes you!
Our new Regional Roaming Internet Pack allows you to easily stay online with your Cellcard SIM while traveling. With this pack, you can choose your desired region and enjoy seamless connectivity.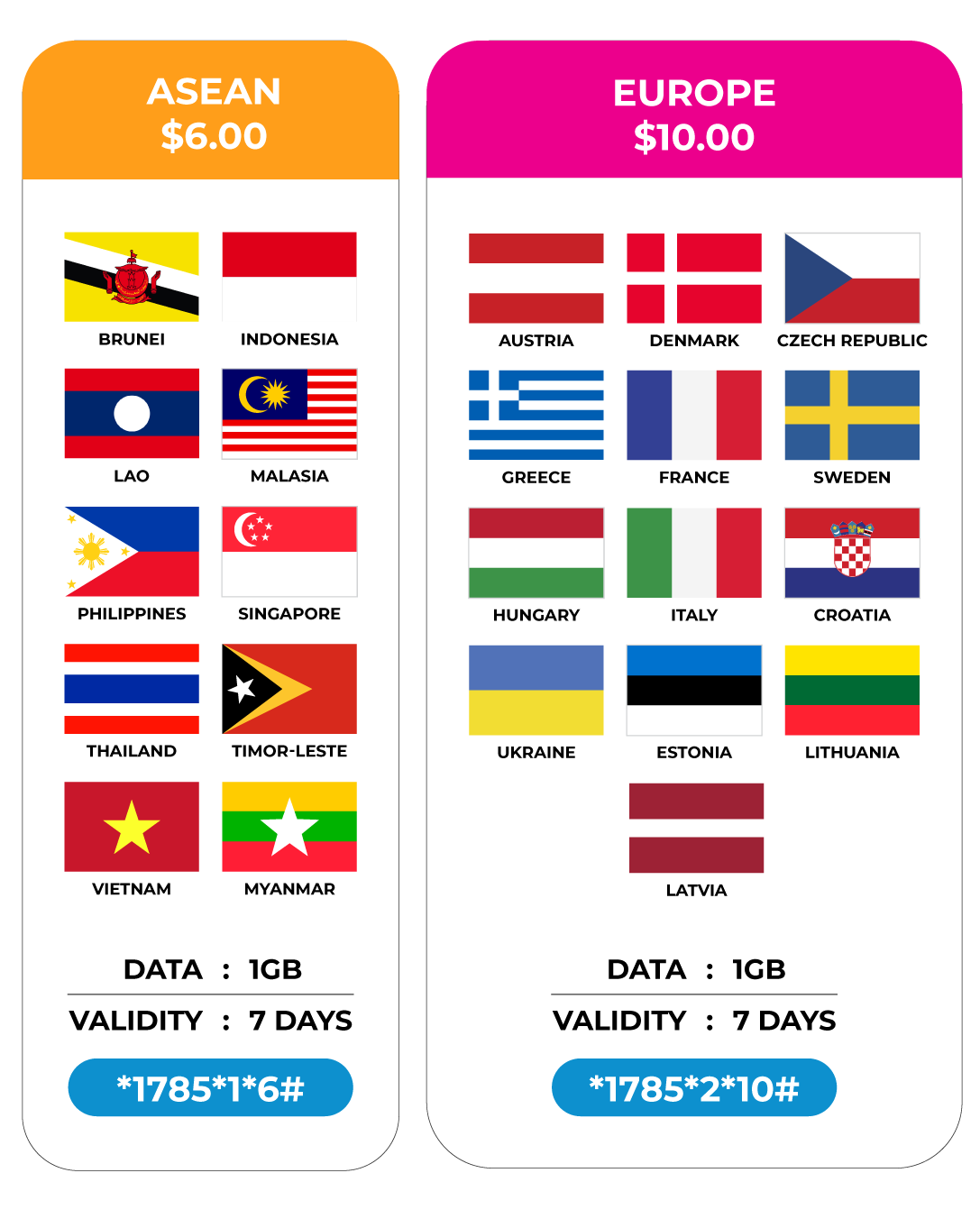 How to subscribe?
Option 1: via short code dial
1. ASEAN Regional Pack, $6 = 1GB/7 Days: *1785*1*6#
2. EUROPE Regional Pack, $10 = 1GB/7 Days: *1785*2*10#
3. ASIA Regional Pack, $15 = 2GB/7 Days: *1785*3*15#
4. OCEANIA Regional Pack, $10 = 1GB/7 Days: *1785*4*10#
5. MIDDLE EAST Regional Pack, $10 = 1GB/7 Days: *1785*5*10#
6. THE AMERICANS Regional Pack, $6 = 1GB/7 Days: *1785*6*15#
iOS ​
1. Go to Setting > Select Cellular ​​
2. Turn on Cellular Data > Select Cellular Data Options​​
3. Turn on Data roaming​​
4. Fill-in "cellcard" in APN ​
ANDROID​
1. Launch your phone's Settings app ​​
2. Navigate to Connections > Mobile Networks > Turn on Data Roaming​​
3. Fill-in "cellcard" in APN ​
NOTE:​
• You need to be in the designated country ​
• You have subscribed to the roaming package​
• Your mobile phone will be automatically connected to our preferred partners (if not, please select the operator that has agreement with us to utilize the roaming package)
Term & Conditions
Regional Roaming Internet Pack is applicable for our preferred partner only. You will be charged a Pay-as-you-go rate if you are roaming with a non-preferred operator.
Outgoing calls, Incoming Calls, and SMS will be charged based on our roaming rates. Please click here for more details.
Multiple subscriptions are allowed, and the bundles are accumulated while the validity is based on the last plan you have subscribed to, whether to downgrade or upgrade a plan.
The plans are auto-renewed on bundle exhaustion but not the auto-renewal on expiration. Please ensure your main balance is enough for the next package you have subscribed to avoid charging the Pay-As-You-Go rate.
SMS notification alert will be triggered on the plan activation and renewal.
If the renewal is failed, no SMS will be received.
Cellcard adopts the Fair Use Policy to protect subscribers' equal rights to access Cellcard's internet services. With this in mind, the Fair Use Policy acts to police unfair and unreasonable consumption of data, which can negatively affect other subscribers' usage and experience. Examples of customers who abuse the Fair Use Policy are using Cellcard Internet for Internet cafes, SIM boxes, or customers selling data services for profit. When a subscriber reaches unfair or abusive usage of the data service, Cellcard reserves the right to slow down data speed or, in other cases, terminate the service to protect the majority of customers using the service.
Cellcard reserves the right to make changes without prior notice.
Where can I purchase the Regional Roaming Internet Pack?
You can purchase our plans using the USSD short code by dialing *1785*X*XX#
Or you can go to the Cellcard App to subscribe to the plans.
What is the validity of subscribing to multiple plans?
The accumulated validity is based on the latest plan you have last subscribed to, so always upgrade, not downgrade the additional plan(s).
When will the plan be charged if I successfully purchased it?
Based on the plans, the internet bundle you have already subscribed to will be consumed once your phone is connected to partners' networks.
Please read the plan's validity to avoid charging from your main balance after the expiration.