NEW EXECUTIVE ELITE PLAN
Big ideas need a big plan, that's why we upsized our Postpaid Plan.​ 
Now you can go big with the biggest Postpaid Plan in the land. ​ 
As a business, we understand your need for great value and reliability to build your business networks. Whether you're just starting or running a small business from home, or working at a big company, you'll need to make a lot of calls and stay connected 24/7. ​ 
Cellcard Executive Elite is packed with all the calls and huge data allowances to keep you connected so you're always up to date, always learning, always in touch, and always on top of everything. And because it's postpaid, you'll never need to stop to Top-Up. ​ 
Best For 
Business owners

 

Government/organization

 

High Data, Call & SMS User

 
Key Benefits 
– Avoid out-of-credit situations and being disconnected during urgent/important business calls 
– Get proper billing records for tax and expense purposes   
– Ability to adjust credit limit for different levels of personnel in the organization  
– Dedicated account managers/priority helpline 
– retains the number to avoid losing its client when employees resign 
 Choose your Cellcard Executive Elite Plan today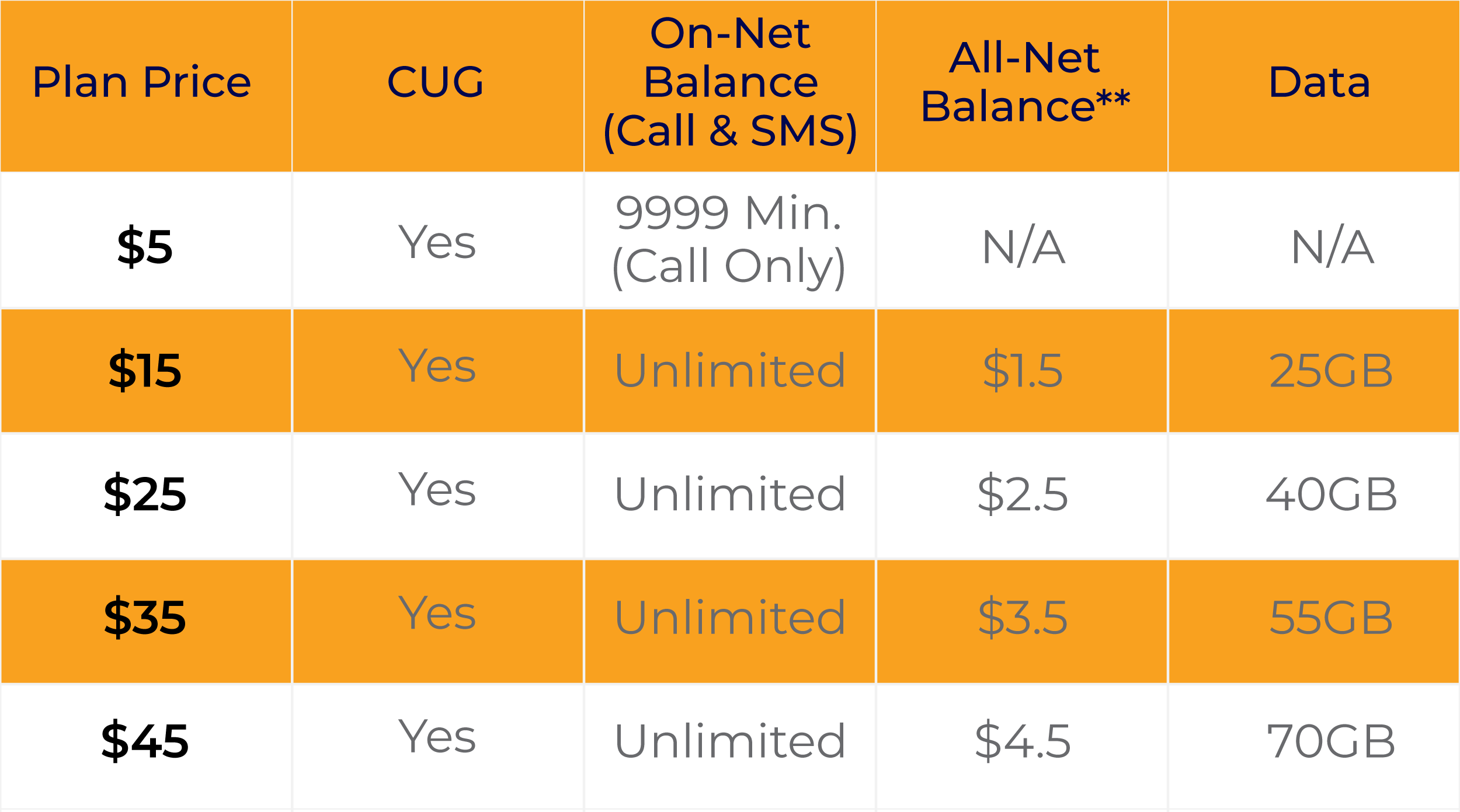 ​ 
All prices include VAT.

​

 

The existing corporate plans (Postpaid Executive & Hybrid) remain unchanged.

​

 

Existing 

Cellcard

 customers can migrate to 

Cellcard

 Executive Elite on a case-by-case basis.

​

 
All-Net Balance can be used for calls and 

SMS

 On-Net, Cross-Net, 

international

 VoIP (Tier 1), and data. 

 
Rates
| | |
| --- | --- |
| Service | Rate |
| On-net Voice Call | $0.05/min |
| On-net SMS | $0.02/sms |
| On-net MMS | $0.10/mms |
| Data | $0.01 for 500KB |
| Off-net Voice Call | $0.08/min |
| Off-net SMS | $0.05/sms |
Basic plans are available both Cellcard Executive and Executive
With Cellcard Executive Lite, you can top-up your phone number with Cellcard Scratch card
Free Family member – You can add one friend's or family's Cellcard number to enjoy free calls.
On-net Balance: for Call and SMS to ON-Network Number and Data
All Net Balance: for Call and SMS to ON-Network Number, Cross-Network Number, Data (PAYGO only), and International VoIP Call to Tier 1 countries (Vietnam, Thailand, USA, Canada, South Korea, China, Hong Kong, Malaysia, Singapore, Laos, France, and India).
TO AUTOMATICALLY SET UP INTERNET & MMS ON YOUR PHONE:TO SUBSCRIBE TO A POSTPAID PLAN, VISIT ANY CELLCARD STORE TODAY.
MINIMUM DEPOSIT REQUIREMENTS

$50 for local calls
$150 for international calls
$500 for roaming service
Corporate Guarantee for qualified corporate clients
Your deposit is equal to your credit limit, covering your plan bundle and your out-of-bundle expense
SMS CC TO 7373
You will receive a message with your phone settings. Save the phone settings as your default setting. If a PIN is required, type 1234type
Make http://www.cellcard.com.kh/mobile/ your default homepage.

POSTPAID INQUIRIES/ FEEDBACK : 712 / 012 999 712
DIRECTORY SERVICES : 1200
T&C
All prices include tax
All calls are charged by the second
On-net SMS from bonus top-up, BIG LOVE, Osja Xchange and plan bundle will be charged 6 cents/SMS.
Out-of-bundle rates will apply for services consumed over the benefits allowed in the bundle
Pro-rate is applied to both monthly subscription fee and service bundles
No roll over for unused benefits
No transfer fees will be charged when moving from prepaid service and vice-versa
This offer will apply to both new and existing postpaid users
For assistance, please call
Postpaid Service Agreement
This Agreement stipulates the terms and conditions pertaining to the provision of postpaid services by Cellcard under the license granted by the Ministry of Post and Telecommunications (MPTC). The revocation of the aforementioned license will subsequently lead to the termination of this Agreement.
For information on fees and charges, please visit www.cellcard.com.kh or call 012 999 712/ 712.
Fees and charges will include, but is not limited to, connection fees, usage charges, reconnection fees, etc.
Cellcard reserves the right to make any changes to the fees and charges of all and any of its services without prior notice.
Cellcard may use its customer's personal information (name, address, ID number, call history and text traffic information) to maintain, modify or terminate services.
Cellcard will adhere to confidentiality of customer's usage and information, however there may be cases where Cellcard is required or permitted by law to collect and disclose personal information to emergency services organizations or law enforcement agencies.
Cellcard accepts liability in connection with the supply or interruption of the service only to the extent provided by this Agreement
Cellcard is not liable, however, for any loss, damages and other consequences related to its service or interruption of its service.
Customer claims under the scope of this Agreement shall be done within fourteen (14) days of the occurrence of the issue, and shall be done in writing. Claims raised after the 14-day period and without written proof shall not be accomodated.
Cellcard reserves the right to suspend/terminate the service at times of emergency, suspected fraud, delayed payments, any breech of terms within this Agreement, and/or in compliance with instructions/orders of regulators, emergency services organizations and other competent authority.
Usage of this service in connection with illegal activities, switches, rerouting of calls or traffic to the network will result to suspension or termination of this Agreement and subject to criminal charge.
Cellcard may assign its rights and obligations under this Agreement to any person or organization.
Customers, however, may not assign his/her rights under this Agreement to any person or organization.
Customers may transfer his/her rights under this Agreement to any person who successfully meets the application requirements of the service.
Upon activation of the postpaid account, customer will be required to pay the initial charges including, but not limited to, deposit, connection fee and other charges stipulated on the front page of this Agreement. In case of unusually high use of the service or roaming charges, Cellcard may require the customer to increase the deposit amount or make an interim good faith payment.
Enabling international roaming requires additional deposit and/or a guarantee letter from the customer.
International roaming will be terminated anytime upon customer written request with deposit refunded 45 days after receiving such written request.
Deposit shall be returned after being offset against any outstanding amount upon termination of this Agreement.
Billing for this service will be done regularly (in arears), unless otherwise set out in the service description.
Billing notice may be sent electronically or in hard copies sent by courier.
For electronic billing, please ensure to select e-bill option and provide your email address to the Cellcard service agent.
Itemized bills are available on request with additional fee.
Customer must pay each bill in full by the due date shown on the billing notice or as otherwise notified by Cellcard.
Failure to pay the bill upon its due date may result to additional late charges, suspension or termination of this service (in which case a reactivation fee will be charged upon settlement of your outstanding bill), or legal action.
Payment may be made in cash or cheque, directly or addressed to the account provided on the billing notice.
Customers are responsible to provide and update Cellcard of any change in address or contact information. Failure to do so may result to suspension or termination of this service.
Initial credit limit is stipulated on the front page of this Agreement. Cellcard reserves the right to unilaterally change the amount of the credit limit at any point in time, with written notification to the customer. The credit limit demonstrates the purpose of monthly usage, not the limitation of responsibility.
Cellcard reserves the right to change any of the above terms and conditions without prior notice.
What is Cellcard Executive?
Cellcard Executive is the powerful plan of the New Cellcard Executive plan, which allow customers to enjoy all the features of the postpaid including the credit limit for your balance reserved after finishing the plan benefit and also the roaming feasibility on the go.
How do I subscribe my company to the new Cellcard Executive Plans?
Call 012 999 712 or 712 to get in touch with a Cellcard Executive sale agents who can recommend the best suited plan for your needs and gladly assist you through the subscription, activation and transition process.
What is Cellcard Executive Lite?
Cellcard Executive Lite is similar to the prepaid plan, which allows you to control your payment and feel hassle-free with a top up feasibility whenever and wherever you need.