​Traveling is more fun with the internet
With Cellcard Roaming Internet Day Pass, you don't need to stress about swapping SIMs at the airport, going out of your way to look for wifi hotspots, or making do with slow internet.
To enjoy Roaming Internet Day Pass, please choose one of our preferred partners when you are traveling abroad.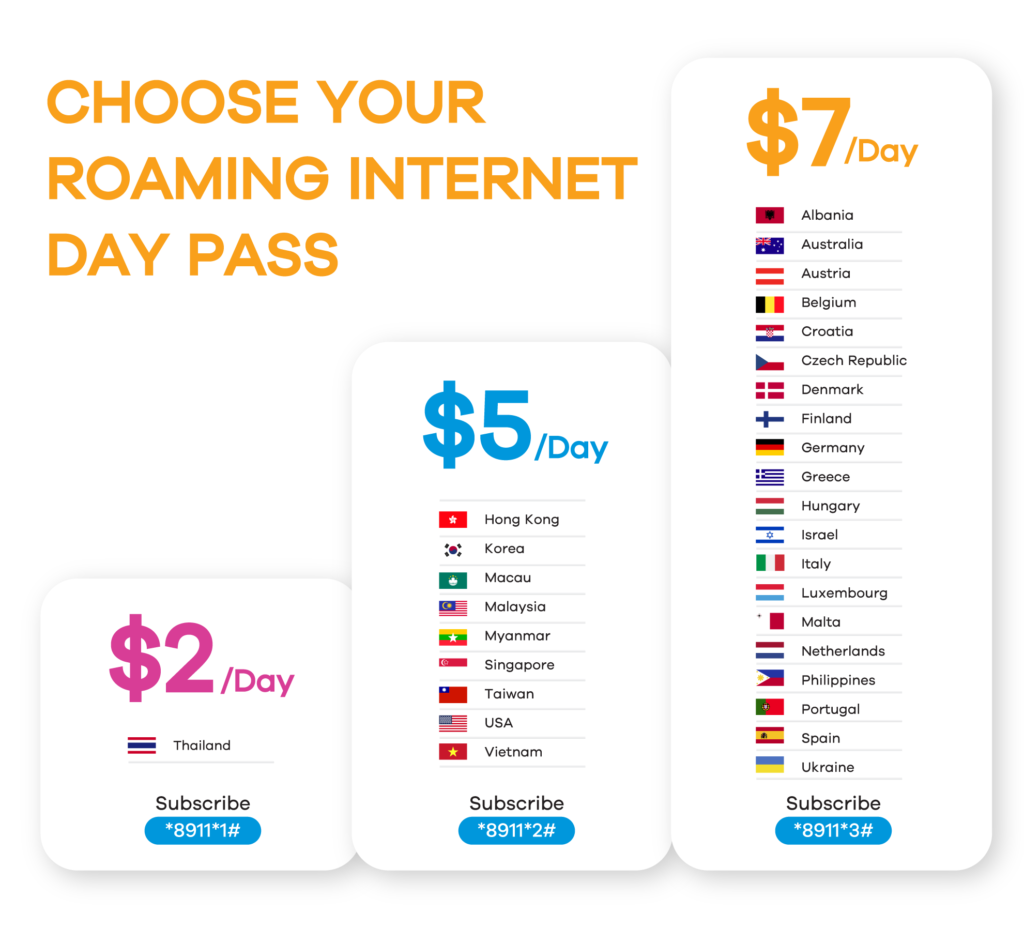 Now you can bring Cellcard's super fast internet with you wherever your travel plans take you, making it easier for you to stay connected to everything and everyone you love while you discover the world. ​
If you love traveling, there's no better traveling companion. ​
To top-up while roaming:
Option 1: *123*14 digit code# and press send.  Ex: *123*23345678345678#
Option 2: Easily top-up via Cellcard App
Option 3: Top up via e-top up (Wing, wallet services banking apps)
To check balance: #823#
Terms & Conditions
The roaming service must be activated before you travel.  To activate, dial *8910#(Free of Charge)
Roaming Internet Day Pass Plans are valid for 24 hours and are not renewed automatically. You can resubsribe to your Roaming Internet Day Plan anywhere. To resubscribe, dial *8911#
You will receive an SMS confirmation once your Roaming Internet Day Pass Plan is activated.
These plans are only available to prepaid users.
Fair usage policy applies.
What is fair usage policy?
Fair Use Policy is put in place with the objective of protecting subscribers' equal rights to access Cellcard's internet services. With this in mind, the Fair Use Policy acts to police unfair and unreasonable consumption of data, which can negatively affect other subscribers' usage and experience.  Examples of customers who abuse the Fair Use Policy are customers using Cellcard Internet for Internet cafes, SIM boxes, or customers selling the data services for profit. When a subscriber reaches unfair or abusive usage of the data service, Cellcard reserves the right to slow down data speed or in other cases, terminate the service to protect the majority of customers using the service.
How do I activate Roaming Internet Day Pass from Cellcard App?
Please go to the Cellcard Home Page -> International Service -> Roaming Internet  and choose plan to subscribe.
How can I know if I subscribe the plan successful or not?
You will receive successful SMS notification.
Are Voice call and SMS included in the Roaming Internet Day Pass?
No! Outgoing call, Incoming Call and SMSMO will be charged based on our roaming rates: Please click here for more detail
How to make call while Roaming?
[+][Country code & Phone Number]
Example:
Call back to Cambodia: +85512812812
Call to Thailand: +6626474491
If I Roam in non-preferred operator, can I use Roaming Internet Day Pass plan?
You cannot use the Roaming Internet Day Pass plan on the non-preferred operator. Please check our preferred operator Here,
Can I use one plan in different country?
Yes, you can use one plan in different country if these countries are in the same plan.