Enjoy your travelling with Roaming Internet Pack!
Why swap SIMS when you travel? Roam the world with our Roaming Internet Pack as low as $6/month. Available in many destination countries! Dial *1785# to subscribe or Go to the Cellcard App > Home Page > Discover > International Service > Roaming International and choose plan to subscribe.
To enjoy Roaming Internet Pack, please choose one of our preferred partners when you are traveling abroad.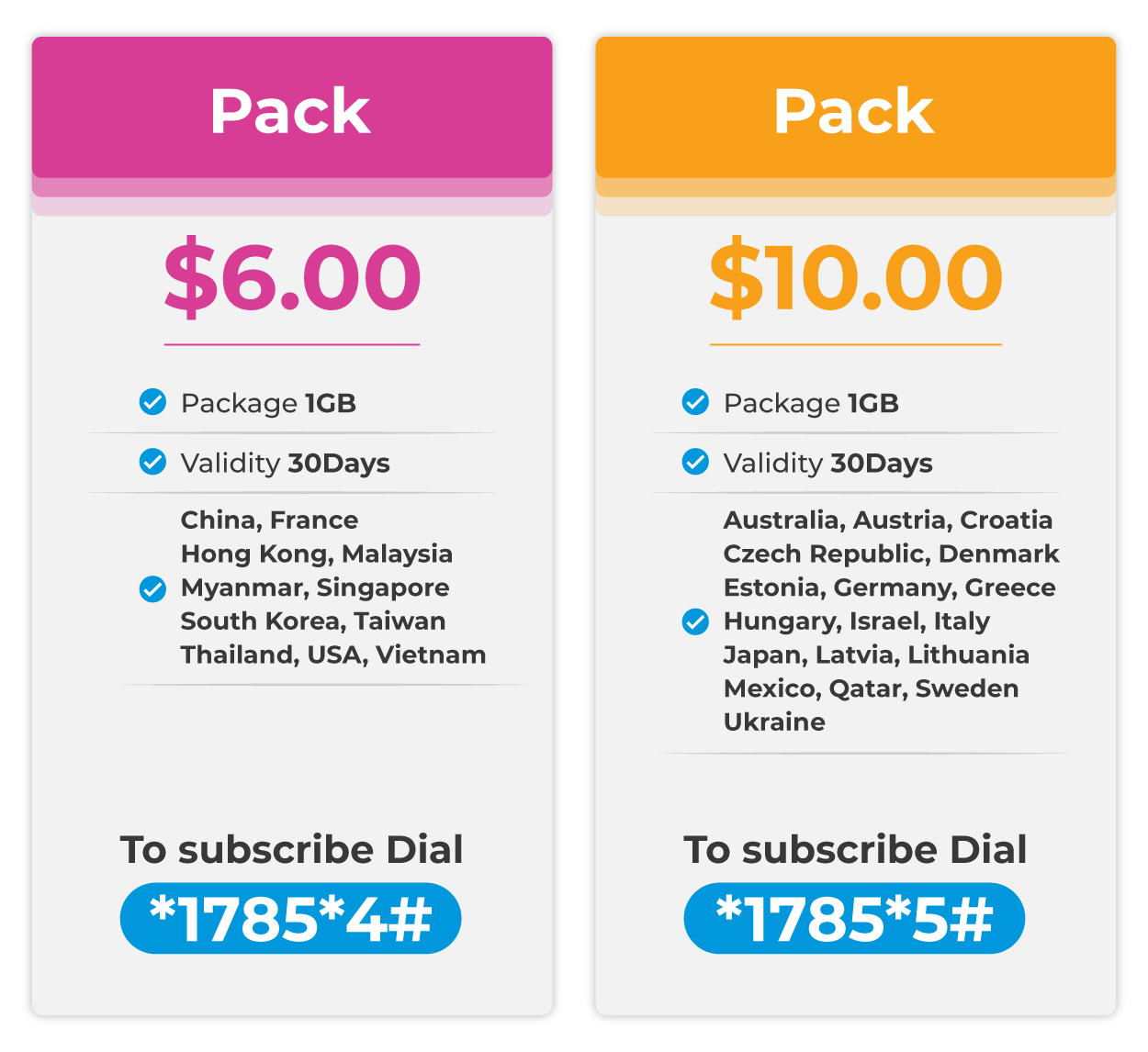 Terms and conditions 
T

hese plans are only available for

 prepaid users.

 

User

s

 can activate

 the bundle in

 Cambodia or o

versea at the

 

country

 destination

.

 

 
The validity is

 for

 30 days and applicable for desig

nated countries/operators

. In case, there are many 

bundle 

subscriptions

. The

 latest validity of the subscription will be applicable.

 

User can subscribe many su

bscriptions and the packages. E

ach subscription 

will be a

ccumulated

 into one-

single bucket.

 

Subscription is non-auto renewal.

 

User will receive SMS alert to notify when they reach 70% of the bucket and another SMS alert when they reach 100% of the bucket. 

 
User

s 

will be notified

 one

 day before the bucket expiry date and asking them whether he/she would like to renew the bundle. Without the user response, it 

will be automatically cancel

l

ed

.

 

U

sers

 

n

eeds to activate bundle by dialing 

*1785*4# or *1785*5# or 

Cellcard

 App again if he/she would like to enjoy the bundle offer once expired.

 
How can I know if I subscribe the plan successful or not?
You will receive a SMS notification when you subscribe the plan successfully.  
Are voice call and SMS included in the Roaming Internet Pack?
No! Outgoing call and incoming call and SMS will be charged based on our roaming rates.
What happens if I do not use the Roaming Internet Pack?
Your roaming data will be charged base on Roaming Rate.
If I roam in non-preferred operator, can I use Roaming Internet Pack? 
If you roam in non-preferred operator, you will be charged Pay-as-you-go rate. Roaming Internet Pack is applicable only with our preferred partner list. 
Can I use one plan in different country?
Yes, you can use one plan in different country if those countries are in the same plan.
What happens if I run out of your Internet Roaming Pack? 
If you run out of your Roaming Internet Pack, the roaming rate will be applied. You can subscribe to another Roaming Internet Pack by dialing *1785#
What happens if I do not travel outside the Cambodia during the 30 days? 
Your Roaming Internet Pack is valid for 30 days only, and it will be wiped out after the expiry date.
 If Roaming Internet Pack is not working, what should I do? 
Please restart your phone. 
Check if you have an active bundle, please go to our Cellcard app. 
Please reset your network settings and try again: 
iOS: Settings – General – Reset – Reset network settings 
Android: Settings – Connections – Mobile networks – access point names – select access – Reset to default 
If the there is still any problem, contact us  
* Hotline Number: +85512812812 
* Email help: customercare@cellcard.com.kh 
* Facebook Help: www.facebook.com/CellcardFanPage