Fall in love with Cellcard BIGLOVE – Cambodia's biggest data offer.
Join Cellcard now! Get your FREE new SIM today and we'll give you DOUBLE BIG LOVE $1=$500 as a welcome treat!
Huge data offers plus real unlimited calls and sms all day long makes BIG LOVE the perfect combo.
Nothing is better than this.
All existing Cellcard customers can enjoy BIG LOVE $1=$250 for 7 days. It's still the best data offer in Cambodia!
Need more data? You can explore bigger love ; BIG LOVE $2 = $500 for 7 days and new BIGLOVE $8 = $2000  for 30 days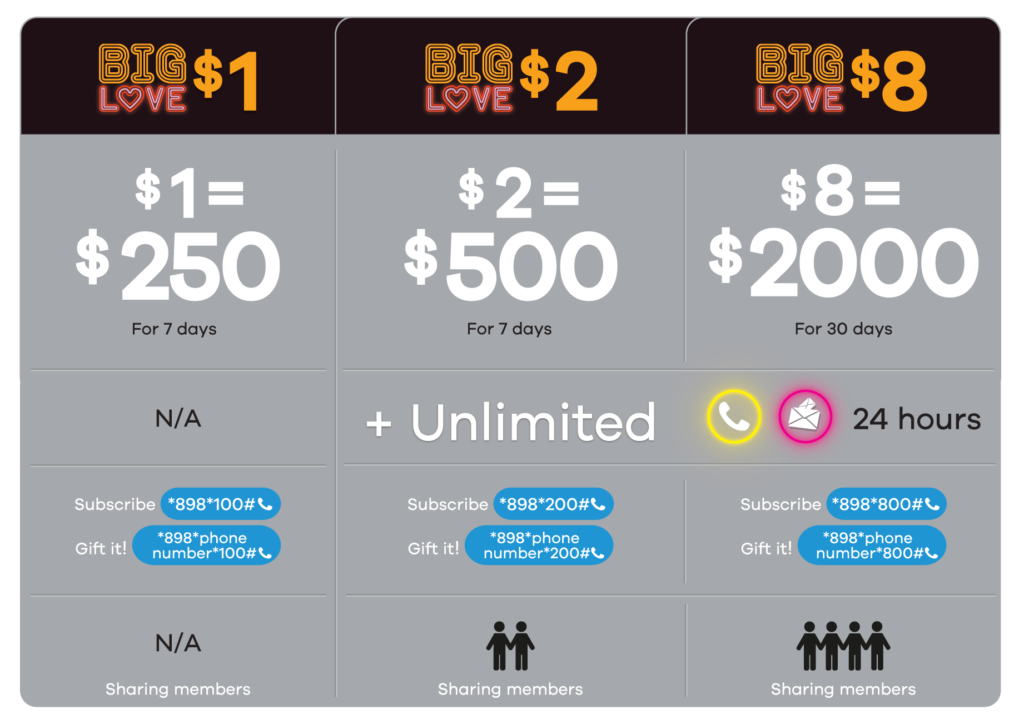 To add sharing member, dial *898*4*1*Phone Number#
To check balance, dial #823#
All BIGLOVE bundles are available for all prepaid subscribers except WLL/Thom Thom/Tourist Sim.
 Cellcard Niyeay plan is eligible to subscribe  BIG LOVE $2 & BIG LOVE $8.
Multiple subscription is applicable for BIG LOVE $2 & BIG LOVE $8.
BIGLOVE$1 is allowed to subscribe only maximum 2 times within the existing validity.
An active account is required to enjoy the benefits of BIGLOVE.
All BIGLOVE bundles come with auto-renewal, except BIGLOVE subscriptions sent as gifts.
BIGLOVE can be sent as a gift to inactive accounts, in which case, BIGLOVE activates the inactive account.
Within network calls in BIG LOVE  bundle will be charged on 60-second charging blocks.
Data usage in the BIG LOVE  bundle will be charged on 1 MB charging block
Cellcard prepaid plans are specifically designed for personal mobile use. We recommend these plans are not used for commercial purposes as it may affect other customers' personal service. Cellcard reserves the right to suspend accounts that utilize such plans for mass broadcasts such as SMS blasts, call-out services and/or spamming, etc.
HOW TO GET BIG LOVE?
Can I subscribe to BIG LOVE if my account is inactive?
Sorry, you can only subscribe to BIG LOVE with an active account. If your account is inactive, please top up.
Can I send BIG LOVE as a gift to a friend even if his account is inactive?
Yes, once your friend receives BIG LOVE, his/her number will be shifted to active.