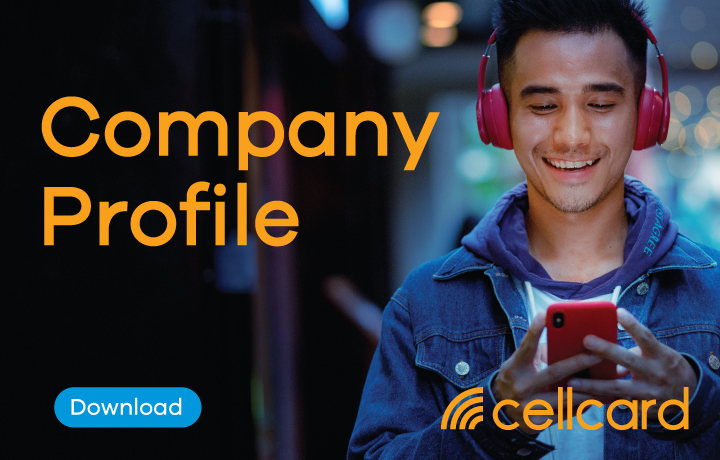 A strong history of industry innovation
CamGSM Co. Ltd.is Cambodia's longest-serving Telecommunications Company with more than 20 years of operation and a customer base of three million subscribers.
The company launched in 1997 in a joint venture with Millicom International Cellular offering customers the first prepaid service with scratch cards.
Operating under the name Mobitel, the company had always been the market leader bringing innovation in both technology and customer service.
In 1998 Mobitel was the first to roll out a nation-wide network in Cambodia along with the first SMS and Roaming services.
It was in 2005 the company launched 3G and a range of Value Added Services (VAS), followed by a credit sharing platform the following year.
The 3G milestone included the transition from Mobitel to the Cellcard brand name, followed by a $200 million investment in 2007 for Next Generation Network (NGN).
Two years later the buy-out of shares from Millicom saw Cellcard become Cambodia's only 100% locally-owned operator – a credit that has become intrinsic to the brand which still carries the Proudly Khmer tagline today.
More innovations followed with the first mobile payment platform in 2010 and the first loyalty program in 2013. Further advancing the network, Small Cell Solutions to improve indoor coverage was introduced in 2013, followed by the official launch of 4G LTE in 2015.
The 4G LTE success story
The year 2017 marked the bold and aggressive 4G LTE roll-out ramping up the number of sites from 300 to 3000 nation-wide.
As a result, Cellcard has increased its customer numbers by 14% and mobile data traffic over the network has increased by close to 500%.
The 4G LTE roll-out continues to be a success story for both Cellcard and Cambodia which continues to attract regional and international industry attention.
Cellcard has been awarded for its network reliability, coverage and speed from independent global companies Ookla and OpenSignal for two years in a row (2017 and 2018).
Cellcard has also been ranked Number 1 in Cambodia's first Consumer Value Index (2017) which rates value for money, across the entire product range, as well as transparency and service.
In 2017 Cambodia had a 36% increase in mobile data connections translating to an injection of $610 million to the local economy.
Industry experts attribute much of that to Cellcard's efforts in building out its 4G network and making mobile data pricing affordable for everyday Cambodian consumers.
Who is Cellcard today?
Cellcard stands by its vision for a digital lifestyle for customers as well as a digitised economy.
To achieve this, Cellcard continues to drive mobile data acceleration and evolve the market to smartphone technology. The ratio currently is about 30% feature phones to 70% smartphones (rising from 60% the previous year).
Intrinsic to the Cellcard brand is the essence of Khmer identity, belonging and family which keeps the company's values deep-rooted in tradition with a modern, progressive attitude to technology adoption and adaptation.
Cellcard is Proudly Khmer. Its current strapline framing all current communications and campaigns is that Cellcard is for Everyone Everywhere. This reinforces the strategy of affordable access to mobile data for all in Cambodia and the company's steps to evolve the market to an Always On Digital Lifestyle and Economy.
Current flagship offers:
The flexi product Osja Xchange gives customers the ability to consume $100 of value in either voice or data (or both) for just $1 for 14 days.
The Big Love data offer increases the data allowance to 10GB for just $1 per week.
Both products come with a full family of different price-points along with additional benefits such as data sharing, free voice allowances, and short-term bonus promotions.
Preparing for 5G
With the 4G LTE roll-out nearing completion, Cellcard's sights are firmly set on building the bridge to 5G. Cellcard's goal for introducing 5G into Cambodia is to see the new technology become the Enabler of Dreams.
Cellcard believes that the aspirations of its customers to have a better quality of life should be met by 5G, in its almost limitless applications.
Cellcard is conducting 5G trials at the end of September 2018 with the view to have the first applications in use in Cambodia in Q2, 2019.
5G use cases being explored include:
Big Data
E-Sim
Smart Cities
Artificial Intelligence
Large-scale Augmented and Virtual Reality
Cellcard 5G will be the bridge for all of these applications integrating industry, governments, and consumers to ensure technological advancement improves quality of life for Cambodians.