To sign up for Cellblast service Click Here
Digitise the way you engage with your customers – with CellBlast
The mobile marketing and communications solution that instantly connects you with your customers.
How can CellBlast help you digitise the way you engage with your customers?
CellBlast is a powerful mobile marketing and communications solution that allows you to connect and engage with a large number of customers via their mobile phones.
CellBlast makes it easy for you to:
Inform your customers about the latest promotions that are relevant to them.
Notify your customers on changes of appointments and operational hours.
Send pre-scheduled reminders to your customers for upcoming events, appointments, payments due, etc.
Obtain valuable business insights/ feedback from customers with a configurable customer survey.
Know whether a message to the intended customer was delivered successfully with a delivery report.
All of these are possible with CellBlast, which you can access via a self-service platform at your convenience.
Choose the CellBlast Package that suits your business.
These packages have been designed to deliver a progressive range of benefits to address your communication needs.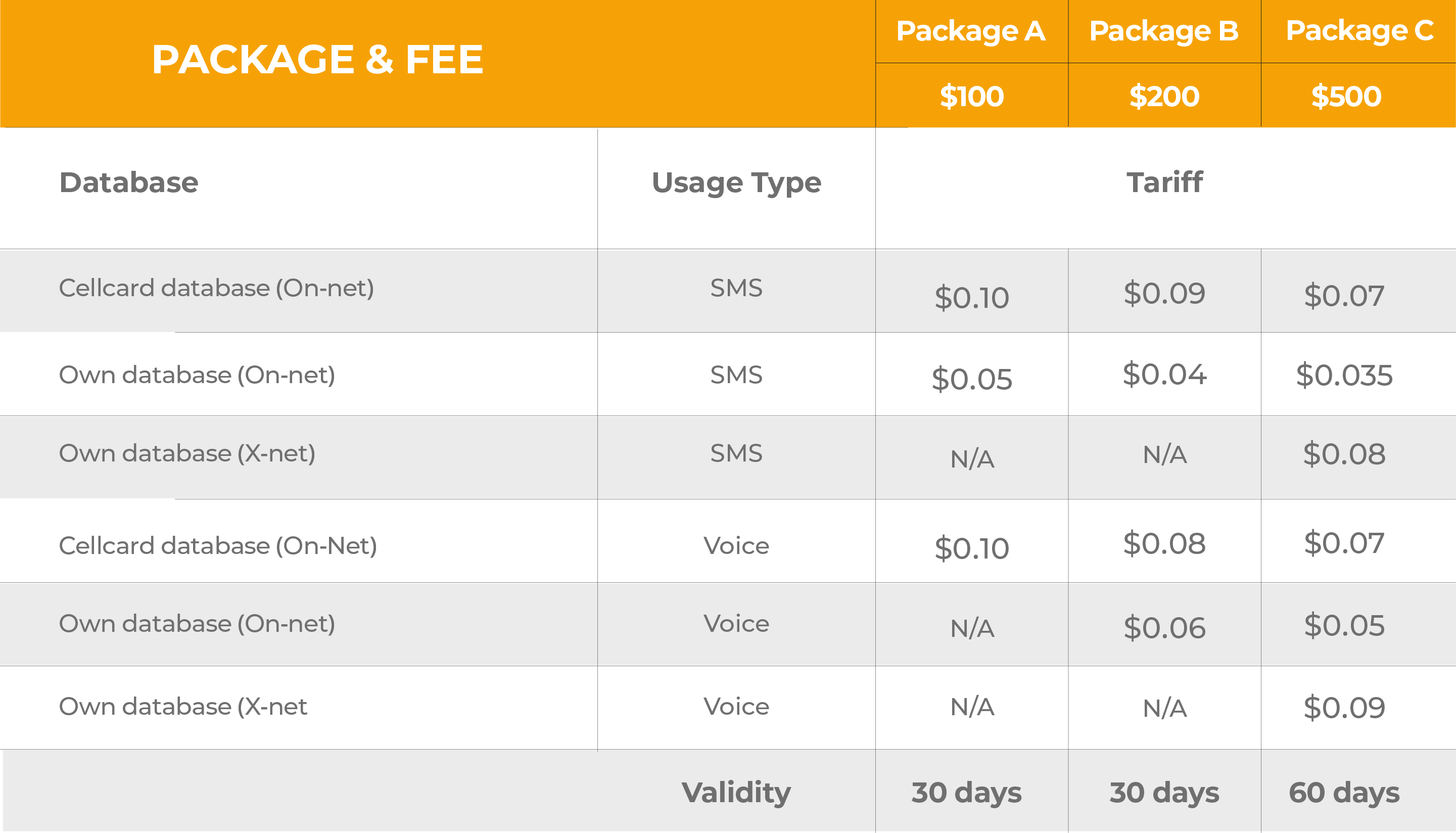 To sign up for Cellblast service Click Here
CellBlast Key Features & Benefits:
Easy to use, anywhere and anytime – The platform is web-based, with you being in full control of your customer communications.
Simple and affordable price plans – Based on the number of SMS/ voice messages you need to send.
Wide audience reach – Reach your target customers instantly, wherever they are. You can reach up to 15M mobile users in Cambodia.
Personalised messages – You're in full control of the messages you send to your customers. Create a standard message or personalise messages by groups of customers. It's all up to you. The solution supports Khmer, English and Chinese languages.
SMS or voice Messages – Decide to use text or voice messages depending on your target audience.
Campaign Analytics – CellBlast includes an easy-to-navigate campaign platform to support you with your marketing communications. The platform is also equipped with an analytics and reports feature to track and monitor the effectiveness of your