Whoever you are​

​! 

Whatever your game! 

There's one plan that rules them all.​

​ 

PLAYGAME UNLIMITED​

​

More than your regular unlimited offer.​​ NOW with 3-IN-1 UNLIMITED GAMING ​. ​​Choose your battlefield, anytime, anywhere, and get ready to get your game on.​​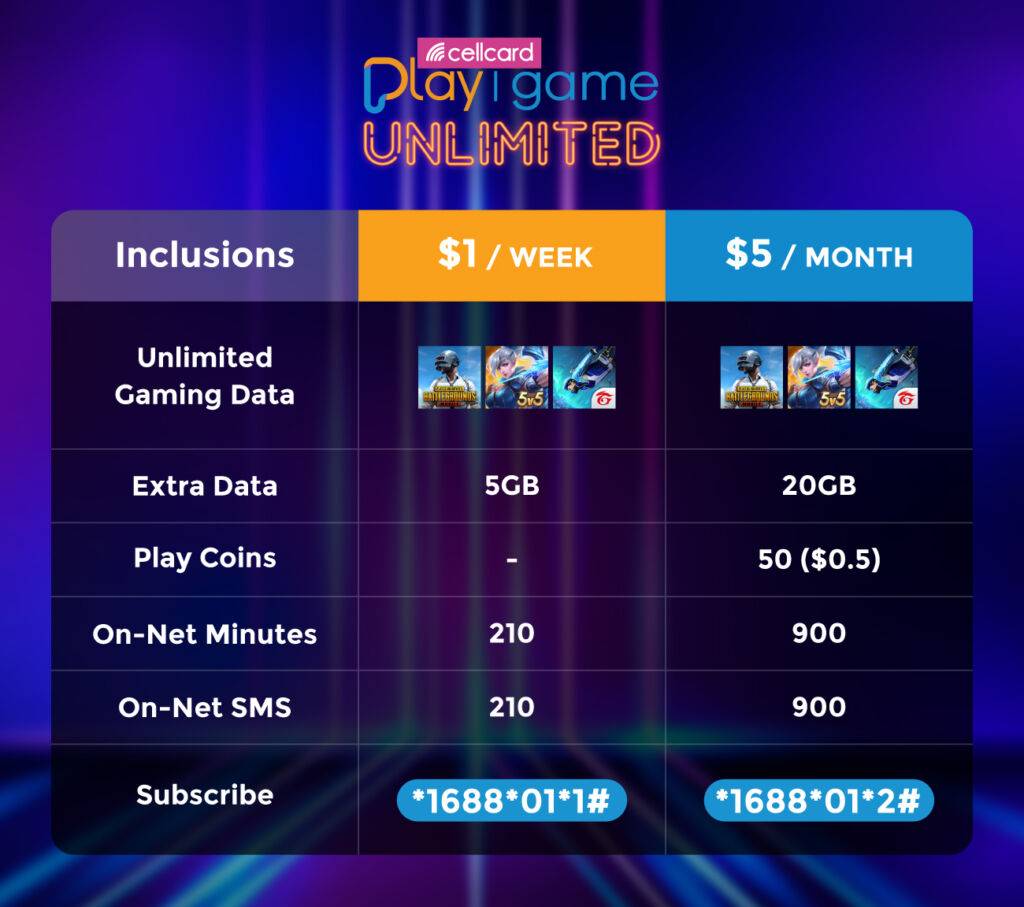 Get ready to get your game on! For more information visit unlimited.play.com.kh
Is PlayGame Unlimited platform available for Cellcard users only?​
PlayGame Unlimited is available for everyone in Cambodia, both Cellcard and non-Cellcard users.
What is PlayGame Unlimited plan?​
PlayGame Unlimited plan is a subscription based plan which offers unlimited data for playing PUBGM, and MLBB, extra data for Facebook, and data for internet surfing. You also get PlayCoins and exclusive offers from PlayGame Unlimited Partners.
What is PlayCoins? ​
PlayCoins is the currency of PlayGame Unlimited. You can use PlayCoins to buy game currency and items as well as redeem exclusive deals, ​within the PlayGame Unlimited platform. ​ 
Who can subscribe to PlayGame Unlimited offers?​ 
All Cellcard prepaid users can subscribe to PlayGame Unlimited plan. ​ 
Can I subscribe to the same PlayGame Unlimited plan at the same time?​ 
No, you cannot subscribe to the same plan at the same time, but you can upgrade your current plan to a higher plan. ​ 
Will I lose my current plan benefits if I upgrade my plan?
Once you upgrade your plan, you can enjoy using your existing + new plan benefits as below:​ 
Benefits

​

 

What Happens

​

 

Unlimited Data for PUBGM, MLBB

 ​

 

Replace with new plan​

 

Data for Facebook​

 

Remaining bundle will be added up to new bundle​

 

Extra Data​

 

Remaining bundle will be added up to new bundle​

 

Play Coins​

 

Remaining Play Coins will be added up to new plan and expire based its own 

validity

Validity​

 

• Remaining validity will continue until the current plan expires




• The user will have individual validity for the plans they subscribed to​