It's Cambodia's BIGGEST OFFER!
Turn your $1 to $100 with the NEW Osja Xchange! Use it for on-net calls or data. It's your choice!  Plus, on top of your exchange, get FREE 30 MINUTES EVERY DAY! Get the most out of your every $1 now and subscribe to the newest and biggest offer yet, NEW Osja Xchange! Besides, you have more choices with 10c= $1, 20c= $3 , 50c=$8 and $2=$150!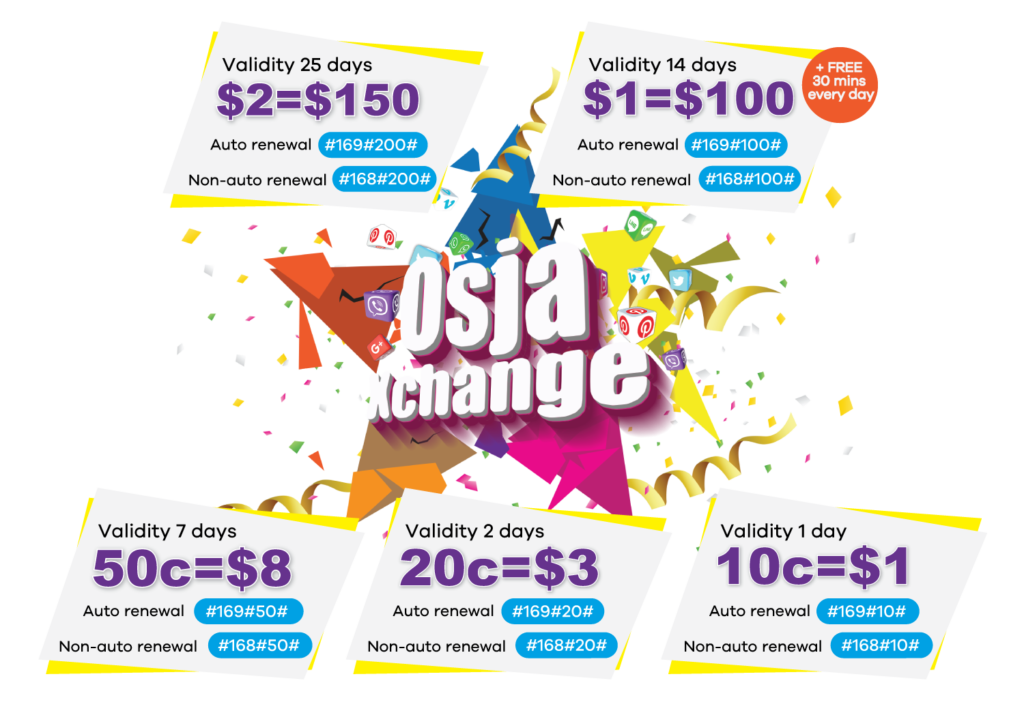 To check balance, dial #823#
Terms & Conditions
An active account is required to utilize the Osja Xchange benefit as well as to receive the free 30 minutes every day.
Free 30 minutes daily bonus can only be received once per day regardless of multiple exchanges.
Free 30 minutes bonus is valid until midnight of each day. At midnight unused minutes will be wiped out and replenished the next the day.
Within network calls in Osja Xchange bundle will be charged on 60-second charging blocks.
Data usage in the Osja Xchange bundle will be charged on 1 MB charging block
Who can subscribe to Osja Xchange?
All Cellcard prepaid subscriber, except Fix Line (WLL), Thom Thom & Tourist Plan, can do Osja Xchange. You can also do an Osja Xchange even if you are presently subscribed to any Cellcard Plan like XG, Tamjet or Niyeay without affecting your value plan subscription. However if you are subscribed to Osja $1=$30, your subscription will be replaced by the new Osja Xchange.
What is the Charging rate for Osja?
The charging rate will follow the base rate of the value plan you are subscribed to. If you are not subscribed to any value plans, then it will be charged at regular rate.
How do I get the free 30 minutes per day?
Free 30 minutes will be automatically deposited to your account after successful exchange. You will receive an SMS notification when your account receives the bonus minutes. The validity of the daily free 30 minutes is until 23:59 of each day. At 00:00, minutes that are not used will be wiped out and replenished with another 30 minutes for the following day. Make sure your account is active to receive the daily 30 minutes bonus.